I love hotels. I want to live in a hotel one day. Well, I love fancy hotels. And I want to live in a fancy hotel one day. I would not like to live in a La Quinta Inn one day. No, sir. Maybe the Best Western where they had a herd of adorable (and probably diseased but who cares because they were cute) cats running around outside. But preferably a fancy hotel.
One where they offer you The New York Times instead of USA Today. One where there are no vending machines in the lobby. One where the gym I'll never go to is more than just an old stripped-out guest room outfitted with one exercise bike and one sad treadmill.
I haven't stayed in a ton of fancy hotels, but I've stayed in enough to know that's where I'm supposed to be. Until that dream becomes a reality, I'll have to satisfy my hotel love by watching movies that feature great fake hotels. For example:
I recently saw
The Grand Budapest Hotel
and I have to say, in its prime, that's a hotel I wish I could've stayed at.
It's mostly pink, it's huge, and it's super fancy. And the service seems to be impeccable. Especially if you're an older lady in need of an attentive concierge. Which I may very well one day be.
One of my favorite movies is The Shining, which takes place in The Overlook Hotel.
Now I know what you're gonna say - why would I want to stay in a haunted hotel where the caretaker tried to murder his own family and also there are maybe ghosts and also blood pours out of the elevators and wouldn't that be a mess? Well, I'm talkin' the Overlook in it's hey-day.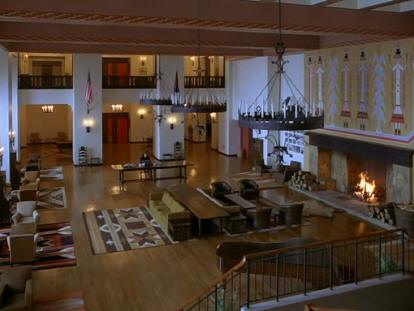 It looked super fancy and had sexy parties.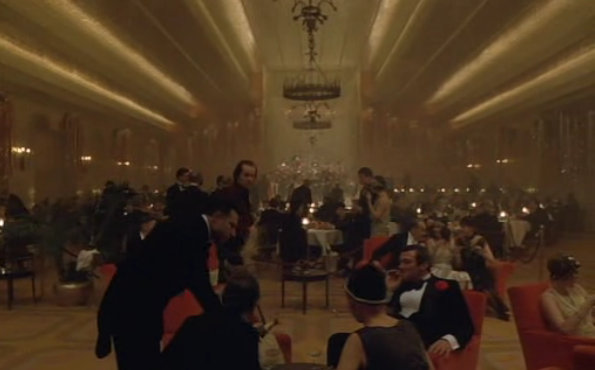 And I could go skiing or snow shoeing or something and play in the maze and junk. There's nothing more luxurious than getting lost in a hedge maze. Hopefully while sipping champagne.
The exterior of the hotel in the movie is actually the Timberline Lodge in Oregon so I guess I could just go there. And Stephen King was inspired after a stay at The Stanley Hotel, so I guess I could go there. And apparently the interiors were inspired by The Ahwahnee Hotel in Yosemite. So there's there to go, too. But whatever.
The Leaky Cauldron
from
Harry Potter
. This is very obvious and you're very stupid if you don't know why a person would want to stay here.
But if you're an idiot, obviously you get to mix with wizards and magic. And I'd probably be a wizard of some kind if I knew to stay there.
And I'd get to meet the wizard who can do magic without a wand.
Durr.
And I will finish off with a return to Wes Anderson and a stay at the Hotel Chevalier.
Because it's Paris. And because I want a yellow robe.
And a yellow bed. The hotel was actually the Hotel Raphael. So maybe one day.
As for living in a hotel, I'm working up to a situation like Sharon Stone had with Albert Brooks in The Muse. So if anyone wants to pay to put me up in a fancy hotel while I inspire them, I'm basically just hanging around. Be warned I'll probably just be a crazy person who's actually going to inspire your wife/partner/whoever to start a booming cookie business. SO DEAL WITH IT.