In the past I have emphatically stated how terrible running and jogging are and how I could never. How I would never. Well, my friends, the sun is rising in the west and setting in the east and fish are flying and birds are swimming: FOR I RUN.
Side note: There are birds that swim and fish that pretend to fly.
But, Laura, you've said running is pointless and jogging is so many times - you've belittled people who run and/or jog. What has happened? Are you a big, fat hypocrite? Were you just a liar then? What of exercising in public? You hate that! So you said! Do you such say anything now?
No, no I don't say anything. I am a changed human. And if you change you don't have to be called a hypocrite. BAZAM! Here's what happened. I was talked into running a 10K. That's TEN. Not a 5K, where I should've started, considering the last time I ran a mile it was forced upon me. And it probably took forever.
How could someone talk me into such a thing as a 10K? Peer pressure, guys. And sometimes peer pressure is actually really cool. It makes you do tough things you maybe don't wanna do, but end up being awesome. So far I've yet to achieve optimum awesome-osity, but I know it's coming. It has to. It has to or I will murder everyone know because otherwise I've been running for NOTHING. Anyway!
Since I've started "training" the farthest I've gone in one go is about 3.25 miles. I need to double that. In like the next 2 weeks. And I can't not do it because I don't want to look like a lazy idiot to the other people also doing the 10K. Even though I'm pretty sure I'm about 90% a lazy idiot.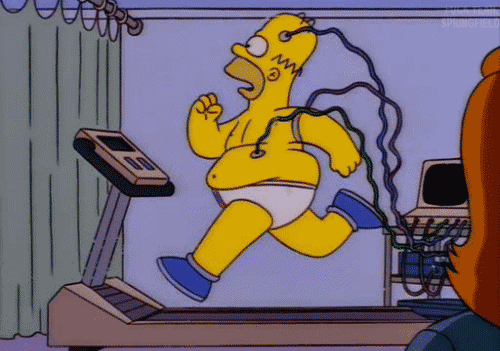 So in case you're not a runner, and you were like me and laughed at and hated runners, here are some pros and cons to show you how right and wrong you are.
Good things about running
1) Being smug while you're running when you see walkers or people sitting in their cars.
You can tell everyone's jealous of how healthy you're being when you chugging along and they're totally not. And when you're done with your run for the day you get to smugly judge everyone else you see who you can tell totally barely moved at all that day. Unlike you, because you are a health running machine.
2) New outfits, shoes, and accessories.
Yes, you get to go to Nike or Big 5 or wherever and buy new fancy running outfits. Pants, shirts, the works! You can even buy special undergarments! There's no better hobby than one that involves a new outfit. Then you get special shoes AND you get fun things like Zombies, Run! for your iPhone and/or a Nike FuelBand and all sorts of accoutrement! And y'all know I cannot get ENOUGH accoutrement.
3) Your butt gets smaller.
Your body slowly starts to reshape itself into prime running shape. Very slowly. But still.
4) Water starts to not taste terrible.
When you're running and you get thirsty you actually want water. It's crazy. Normally I find the taste of water unbearable. But when I run I am like a beautiful thirsty flower who cannot get enough of the stuff.
5) You get to eat more food.
You burn all sorts of calories and crap so you get to eat more food to feed your muscles. But try not to eat sweets and garbage like me or else your butt smallening will take forever.
Bad things about running
1) The actual running becomes horrible after a while no matter what music or audiobook you play.
There's just a point in running where I want to collapse in a heap and never run again. I don't think endorphins actually exist. They're one of those things people lie about to make other people feel bad, when in actuality they feel just as bad as the rest of us.
2) Your legs really hurt afterwards.
You have to muster up the strength to stand up in the shower, which stinks unless you're a bath person I guess. And I don't really understand how people run in the morning because I basically become a noodle-legged useless lump after I run.
3) Other people go faster than you and there's almost nothing you can do about it.
People say it's a good idea to run with a friend. But sometimes you can get real mad that you can't keep up with them. Sometimes this anger turns into a form of wonderful peer-pressured rage that pushes you along. But then some jerk coasts by like running is as easy as driving or bicycling leaving you in the dust and all you can think is NOOOOOOO.
4) Your ankle hurts during running.
Some people have a weak right ankle. These people are me. And then your ankle part hurts. I don't like when things hurt. Boo.
5) You get so hungry that you eat so much that you don't get in much better shape very quickly.
You might think whoa I ran forever and my dumb running app tells me I burned loads of calories, now I get to eat ALL THE FOOD! But you shouldn't. Because then you look down at yourself like 3 weeks after you started running and think why aren't you as svelte and strong as a pop star gazelle. But then you remember how you had to buy 6 cookies and not 4 at the cookie restaurant because it was such a delicious deal. And you don't regret a thing.